Got a question? Call us on +44 (0)20 8842 7567
Buy Subaru Impreza Parts Online
Tuesday, 16 August 2016 10:07:28 Europe/London
The Subaru Impreza is truly a wonderful car. And this wonderful car deserves only the genuine Subaru parts. Therefore, it is very helpful to know how to get the original Subaru Impreza parts for your magnificent ride.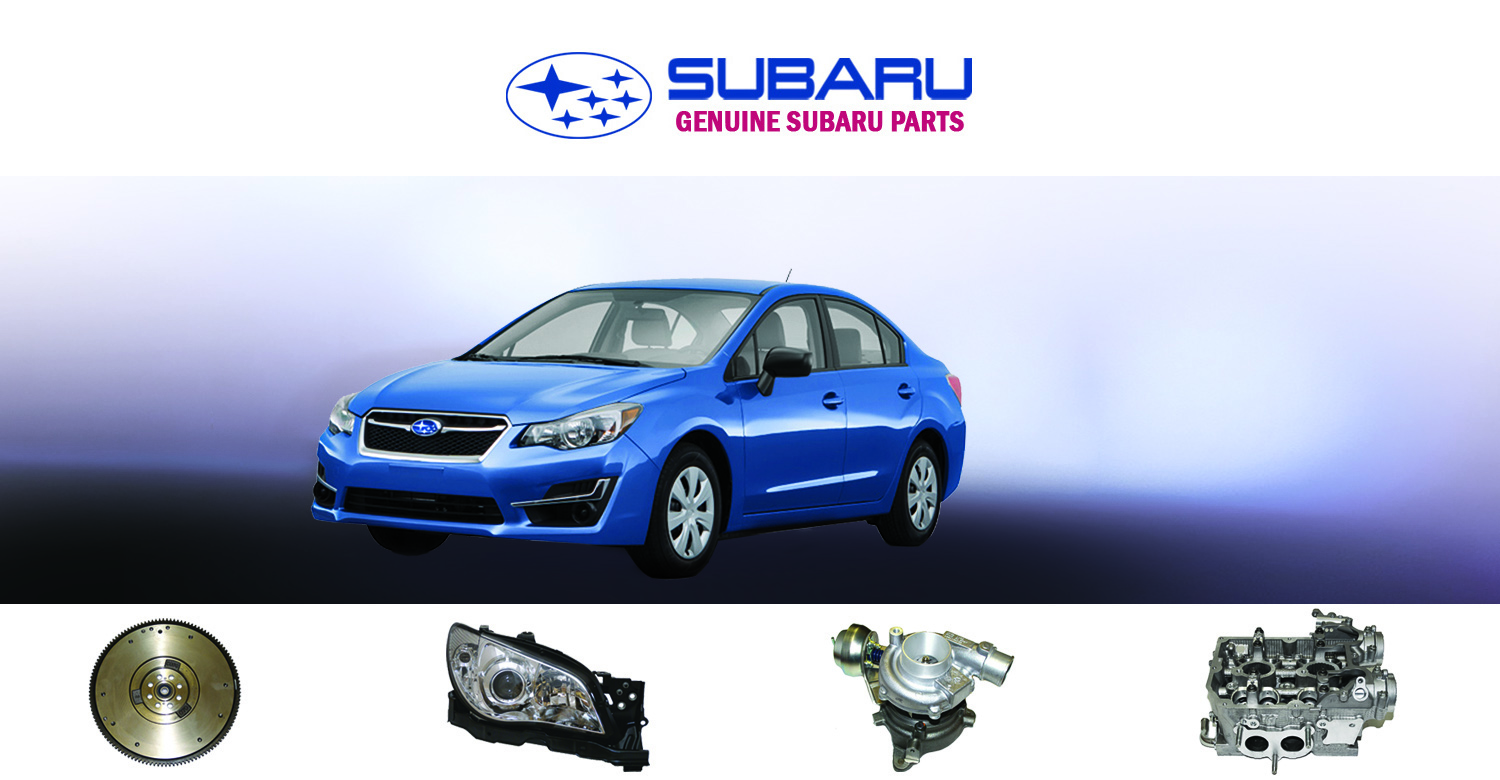 Subaru is quite a popular brand, not only in the UK, but many countries across the globe. It is surprising that Subaru cars are even popular in countries like Iceland, Norway, Sweden, Denmark, and several other countries along that line on the map. The reason why Subaru is popular in these countries is because of its high performance, sturdiness, comfort, and amazing drivability.
Subaru Impreza in Detail
If you are looking for Subaru Impreza parts, then you need to acknowledge the type of machine you own. Beneath the hood is a 2.0-liter, 4-cylinder Subaru Boxer engine, capable of producing 148 horsepower and 145 lb-ft torque. It comes with five-speed manual or Lineartronic Continuously Variable Transmission (automatic transmission).
In terms of handling, your Subaru Impreza has four-wheel independent suspension, as well as symmetrical all-wheel drive, which offers exceptional stability and traction. Subaru Impreza also features four-wheel disc brakes and brake assist system, which help in braking effectively. The interior is luxurious, and the amenities are plentiful.
Usually, these are the features you would probably observe if you already own the Impreza, but it still helps to know about them before ordering the Subaru parts.
Common Vulnerable Subaru Impreza Parts
Now that you acknowledge what is under your amazing ride, why not take a look at the Subaru Impreza parts you are most likely to be ordering? As per most Subaru mechanics, the Subaru Impreza parts you are most likely to be needing include an air filter, oil filter, fuel filter, ignition coil, and spark plugs.
You should, however, also expect to replace your Impreza's clutch parts, brake pads, engine electrics, cooling and heating components, axle parts, steering parts, suspension parts, transmission parts, and certain engine parts. You should remember that your car will wear down differently, so you need to procure exactly those parts, which can get your Subaru back to work.
Buy Subaru Impreza Parts Online
The best way to procure original Subaru Impreza parts is to shop online. You will find almost every Subaru part online.
If you visit your local auto parts dealer, it is likely that you will not find the right parts. The local dealer might not have the specific parts you need. Even if the dealer has the parts, there is no guarantee that they are OEM parts. Your Subaru Impreza needs original Subaru Impreza parts, which you can buy easily only through the online platform. Besides, buying Subaru Impreza parts online has many benefits:
Cost Saving: By buying Subaru parts online, you can save a lot of money. Online dealers usually acquire the parts from Japan at low prices and pass the cost-benefit through discounts on bulk purchases and free shipping.
Get Any Subaru Parts: Whether you want Subaru Impreza engine parts or Subaru Impreza suspension parts, reputable Subaru parts dealers have a massive inventory. From Subaru Impreza body parts to Subaru Impreza transmission parts and more, you will be able to find everything online.
Informed Buying: Before placing the order for a certain part, you have the option to communicate with the expert dealer to confirm whether they have the exact part. This way, you will always be able to procure the right parts for your Impreza.
Convenience: By ordering Subaru parts online, you will be able to get all the required parts without ever leaving your house! Almost every online Subaru parts dealer provides a worldwide shipping. So, no matter where you are, you will get your Subaru parts at your doorstep.
Want genuine Subaru Impreza parts for your wonderful car? When in need of original Subaru Impreza parts, Subaru owners all over the world rely on KS International Limited. The largest independent stockist of Japanese car parts, we at KS International Limited, stock a massive range of Subaru car parts. Whether you need OEM Subaru Impreza parts, Subaru Forester parts, or Subaru Legacy parts, we have them in stock, ready for immediate shipment.
Recently, we have started fast shipping, of Subaru parts to Iceland, Ireland, Denmark, Norway, Sweden, and Finland. So, whether you need Subaru Impreza parts in Iceland, Norway, or anywhere else in these said countries, you will get them quickly, in an efficient manner.
Apart from Subaru car parts, we also sell OEM Toyota 4x4 parts, Nissan 4x4 parts, Mitsubishi 4x4 parts, Ford Ranger parts, Daihatsu 4x4 parts, Mazda 4x4 parts, and Isuzu 4x4 parts online. OEM Mitsubishi Fuso truck parts, Toyota truck parts, Hino truck parts, and Isuzu truck parts are also available for online purchase from our site.
To buy Subaru parts online, visit https://www.ks-international.com/subaru/impreza.html.
Bookmark with:
Digg.com
Stumbleupon.com
Del.icio.us
Facebook
Reddit.com