Got a question? Call us on +44 (0)20 8842 7567
High Quality Mitsubishi 4x4 Parts – The Core Components for the Success of Mitsubishi 4x4s
Friday, 11 December 2015 10:55:48 Europe/London
Mitsubishi is a Japanese conglomerate with a range of businesses under its name, including aviation, electrical, heavy industries, mining, financial services, shipbuilding, and many more. Mitsubishi Motors Corporation is one core business of the Mitsubishi Group. Mitsubishi Motors Corporation deals in manufacturing automobiles and heavy vehicles.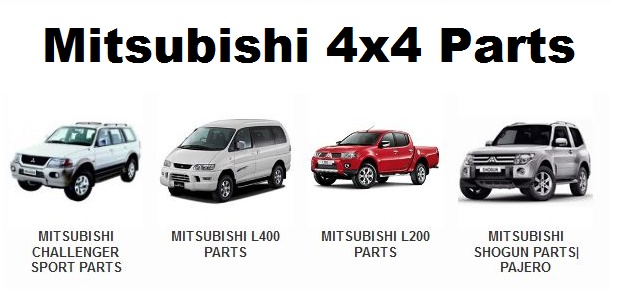 Currently, it is the sixth biggest Japanese automaker and sixteenth biggest in the world. Mitsubishi vehicles are well-known for their toughness, slick design, excellent engineering, and best-in-class comfort. When it comes to Mitsubishi 4x4s, along with the said general aspects of Mitsubishi vehicles, they feature exceptional off-road driving capability. This, they have proved with their great success over the years in the world-class Dakar Rally. All the success of the Mitsubishi 4x4s can be attributed to the meticulously designed OEM 4x4 parts and their mutual functioning. The high-quality Mitsubishi 4x4 parts are absolutely durable and resilient.
Every Mitsubishi 4x4 owner yearns to maintain their vehicle in a peak condition. For that, they require purchasing OEM Mitsubishi 4x4 parts and accessories. The OEM Mitsubishi 4x4 parts are engineered to perfection, and before rolling out into the market, they undergo stringent quality checks. The stringent quality checks ensure high precision as well as prolonged durability of the parts so that when experiencing tough off-roading, they do not abruptly fail.
Whether you own a Mitsubishi Challenger Sport, Mitsubishi L200, Mitsubishi L400 or Mitsubishi Pajero / Shogun / Montero, you can easily find and procure genuine Mitsubishi 4x4 parts and accessories from a local supplier or a reputed online dealer. There is no lack of reliable online 4x4 parts and accessories suppliers in the market. It is just a matter of choice whom the 4x4 owner prefers to choose and deal. Before selecting the online Mitsubishi 4x4 parts and accessories dealer, however, the 4x4 owners must first perform a little research on their own to find out the authenticity and credibility of the dealer. This can be done simply by visiting the dealer's website and reading the "About us" section.
A reputed Mitsubishi 4x4 parts and accessories supplier will have a wide range of original parts and accessories, ready for immediate delivery. Therefore, the 4x4 owners can easily find the Mitsubishi 4x4 parts and accessories they require without wasting their precious time and energy. Oftentimes, purchasing 4x4 parts online also yields exceptional discounts!
In order to buy 4x4 parts online, all that is required is logging into the dealer's website, finding the right Mitsubishi 4x4 parts, adding them to the shopping cart, filling in the delivery info, and paying for the order. The 4x4 owners can place an order at any time as the website is always available to take orders 24x7. Shopping 4x4 parts online is the easiest way to acquire the required parts. In fact, the parts are delivered to the doorsteps!
To buy genuine Mitsubishi 4x4 parts, UK 4x4 owners rely on KS International Ltd. In business for over two decades, KS International Ltd. is a leading supplier of Mitsubishi 4x4 parts in UK. Aside from Mitsubishi 4x4 parts, KS International Ltd. also supplies OEM and aftermarket parts for various Japanese 4x4s, trucks and pickups.
To learn more about KS International Ltd., head over to their website https://www.ks-international.com/.
Bookmark with:
Digg.com
Stumbleupon.com
Del.icio.us
Facebook
Reddit.com