Got a question? Call us on +44 (0)20 8842 7567
OEM Isuzu Truck Parts - Keeping The Truck Going
Wednesday, 14 October 2015 10:02:57 Europe/London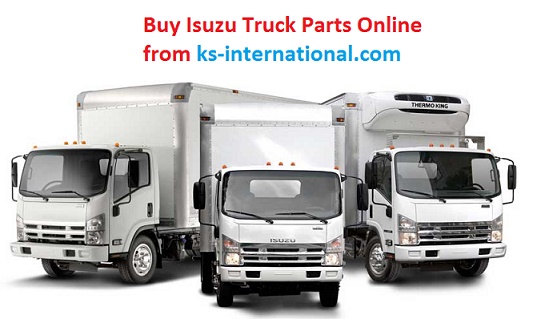 Isuzu Motors Ltd. is one of the largest manufacturers of commercial trucks and diesel engines. A Japanese manufacturer, Isuzu sells its truck models all over the world. Many truck fleet owners and businesses prefer Isuzu trucks because of their high performance and low maintenance. Isuzu trucks' engines are powerful and sturdy, offering exceptional performance and better fuel economy. The truck's framework, i.e. the chassis, is sturdy too, capable of withstanding even the toughest of terrains. All these make Isuzu trucks, the drivers' best companion.
Despite being sturdy and long lasting, certain Isuzu truck parts do wear out over a period of time. After all, it is mechanical, which is susceptible to the common wear and tear. Accidents too can damage certain Isuzu truck parts, which later on, demand replacement. Fortunately, Isuzu Motors Ltd. has all well thought up for its truck parts. Along with commercial trucks and diesel engines, Isuzu Motors Ltd. also manufactures truck parts for its various truck models and makes them available in the market.
If you look online, you will be surprised to find lots of OEM (original equipment manufacturer) Isuzu truck parts available at a fairly reasonable price. Therefore, it might be worth buying Isuzu truck parts online. Here are some of the Isuzu truck parts that you will find online:
Engine Parts – The engine is the heart of the truck. In fact, it is the heart of any vehicle. The engine comprises of different parts; there are pistons, camshaft, crankshaft, bearings, cylinder head, gaskets, valves, belts, and so on. These all are subject to wear and are required to change (at some point in time) in order to keep the engine working and the truck running.
Transmission Parts – A transmission transfers power from the engine to the wheels and moves the vehicle. It comprises of gears, bearings, clutch, driveshaft, u-joint, differential and other parts. These transmission parts are susceptible to wear over a considerable period of time and are required to change to keep the truck moving.
Suspension Parts – The entire body of the truck suspends on the suspensions. A suspension is a link that connects a truck to its wheels. The entire suspension system contains springs, shock absorbers, stabilizer bars, stabilizer bushings, control arm, etc., and sometimes the load helper springs. These parts require replacement to ensure the smooth running and manoeuvrability of the Isuzu truck. The load helper springs are the extras, which improve the payload capacity of the truck.
Steering Parts – The steering system helps in navigating the truck the way the driver wants to navigate it. The steering system includes drag link, knuckles, oil pump, pitman arms, lock housing, tie rods, and several other parts. They all are subject to wear and need replacement to ensure smooth navigation of the truck.
Aside from these, there are axle parts, body parts, brake parts, electrical parts, cooling system parts, fuel system parts, air filters, oil filters, fuel filters, and many others Isuzu truck parts, which are available online.
When you decide to buy Isuzu truck parts online, ensure that you buy only the genuine parts; thus, partner with Japanese truck parts and accessories dealers who only deal with OEM parts.
Bookmark with:
Digg.com
Stumbleupon.com
Del.icio.us
Facebook
Reddit.com
Posted in
Isuzu
By
KS International Ltd